---
November 2019
Julia's paper detailing NMR quantification of the effects of ligands and counterions on Lewis acid catalysis is published in the Journal of Organic Chemistry!
Jake attended the 1st Annual Inorganic Symposium hosted at UC Davis where he presented a poster about his research on silicon-based catalysts, ligands, and material precursors.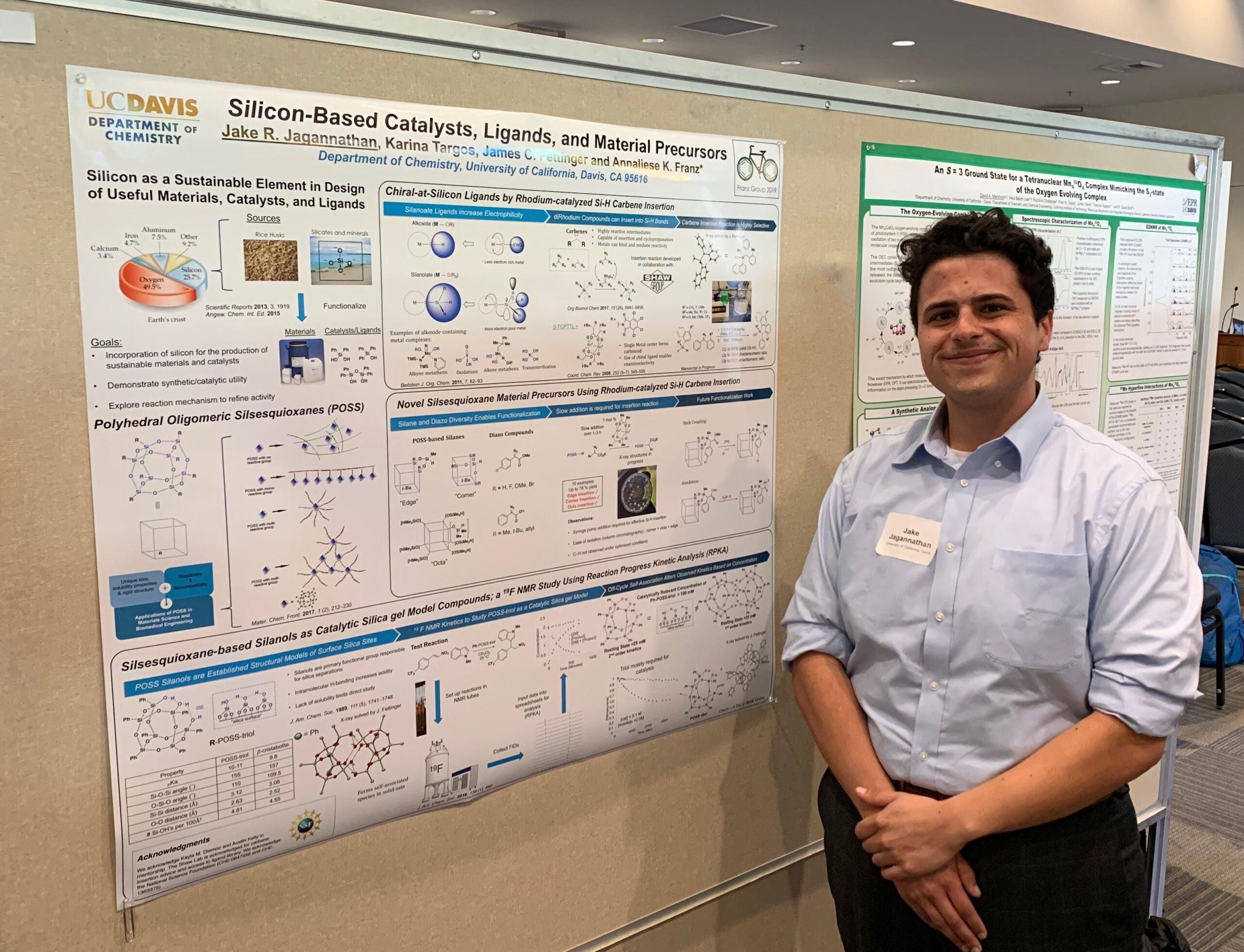 October 2019
Angel's paper detailing catalytic asymmetric synthesis of cyclopentene-spiroxindoles bearing vinylsilanes capable of further transformations is published in Organic Letters!
The algae squad (Cody, Kayla, and Serena) was given the opportunity to explore the Sacramento Regional County Sanitation District with other members of the Capital Science Communicators network. This structure is a section of a water pipe that would otherwise be used to release treated water back into the Sacramento River. This is not even the biggest size that they use! Thank you CapSciComm for such a great and educational experience!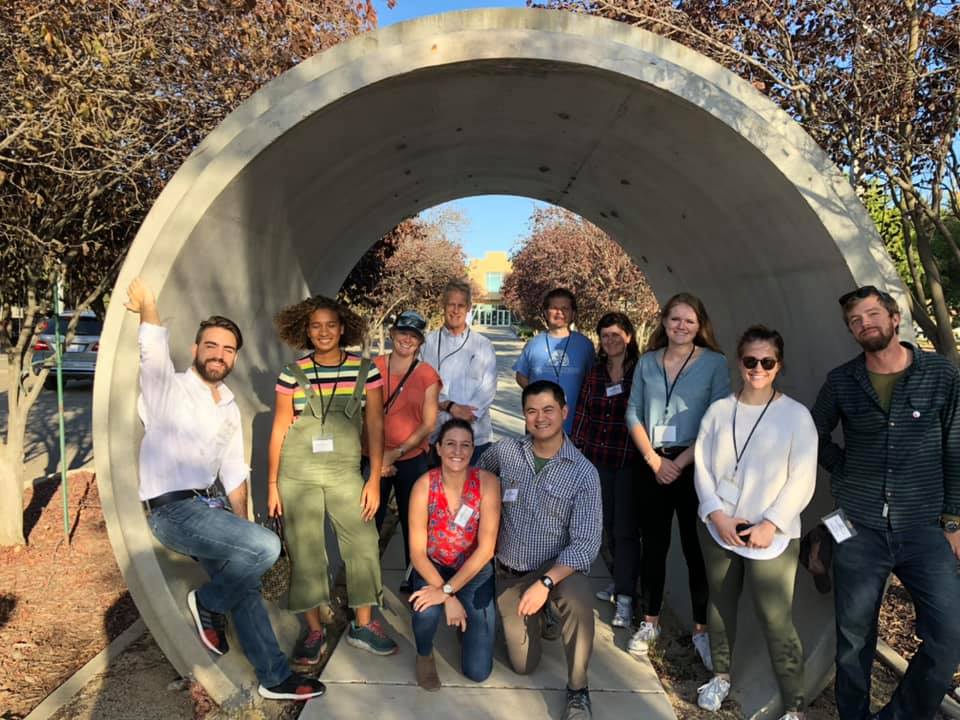 Photo credit: Capital Science Communicators — www.capscicomm.org
Capital Science Communicators is a professional network with a mission "to connect science communicators across all professions in the Capital Region with resources and networks for professional advancement."–www.capscicomm.org. Check them out here!
September 2019
Jake's paper detailing kinetic and binding studies of H-bonding catalysis with silsesquioxane silanols is published in Chemistry: A European Journal.
August 2019
The group attended the ACS meeting in San Diego where both Jake and Angel presented their research! Our undergraduates also had the opportunity to present their research at the poster session.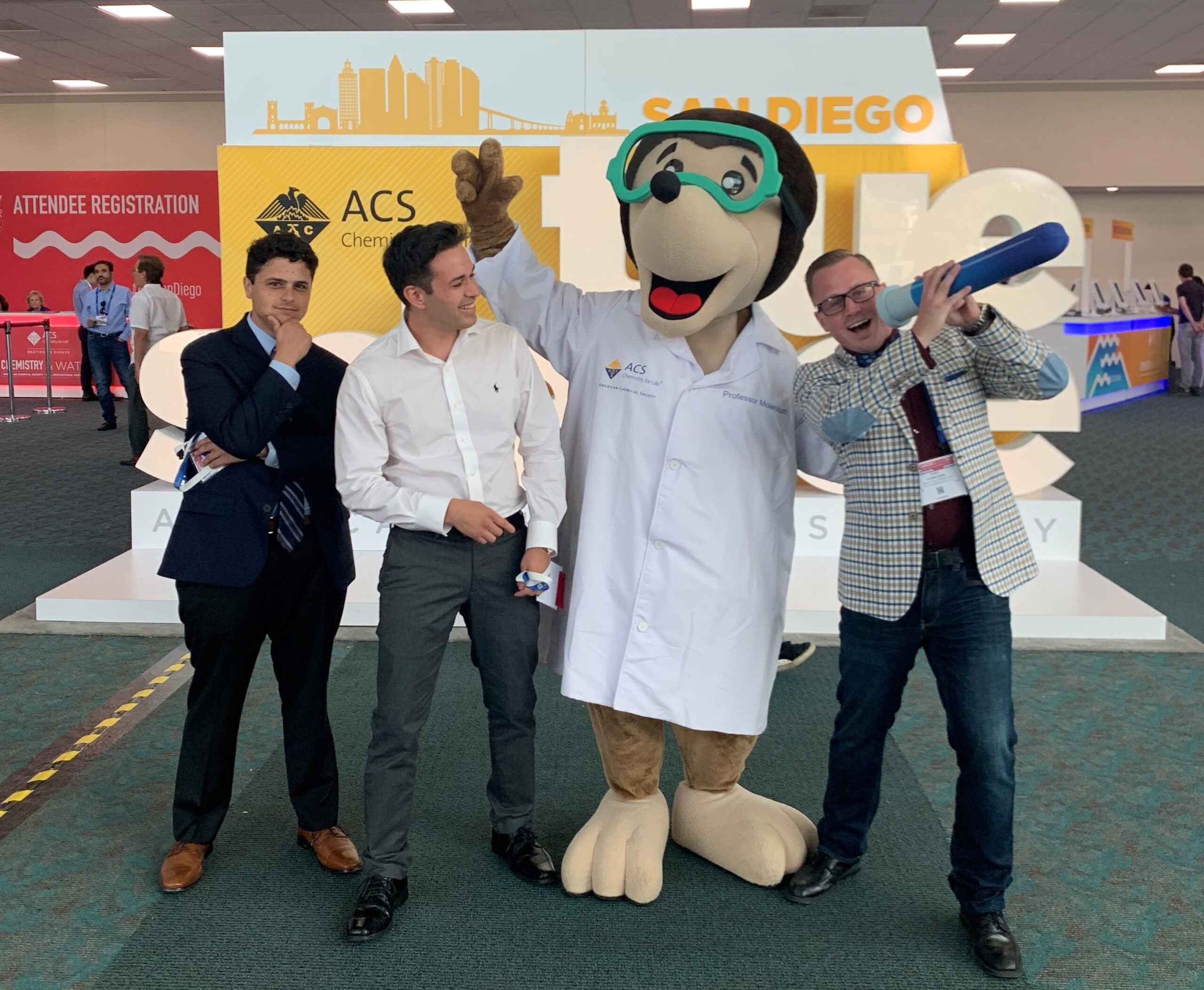 Jake and Angel met up with former lab member John Shreiber and took a picture with Prof. Molenium!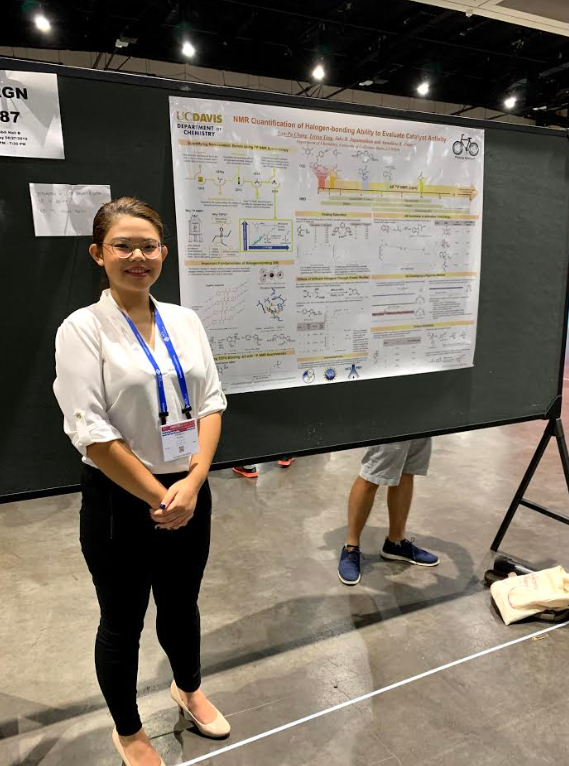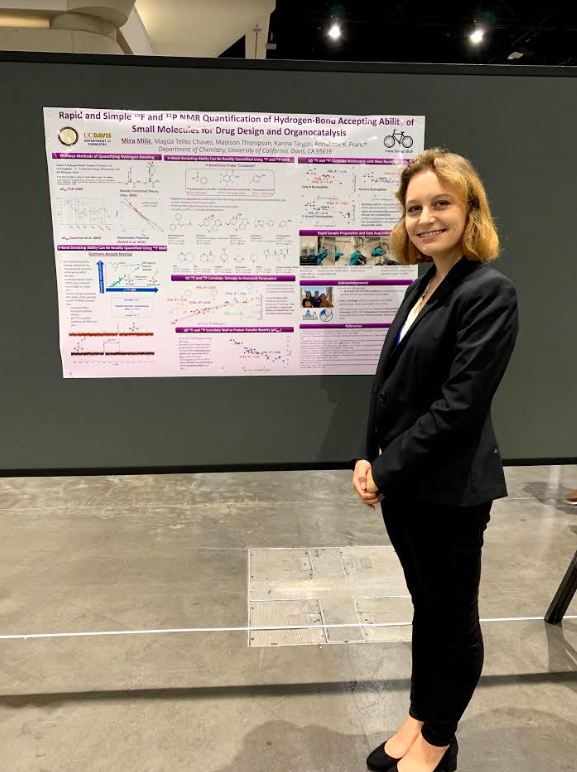 Left: Teresa presents her research on using NMR to evaluate catalysis activity.
Right: Mira presents her research on 19F and 31P NMR method quantification of hydrogen-bond accepting ability.
June 2019
Kayla's book chapter detailing the methods and guidelines for lab- and industrial-scale production of oleaginous microalgae using wastewater is published in Microbial Lipid Production: Methods in Molecular Biology!
Cody's book chapter detailing the conversion of microbial lipids to biodiesel and testing for the analysis of fuel-quality parameters is also published in Microbial Lipid Production: Methods in Molecular Biology!
May 2019
Kelsey's paper detailing sodium-catalyzed Friedel-Crafts reactions is published in Organic Letters!
April 2019
Austin's paper detailing the metal-free synthesis of 1,3-disiloxanediols and aryl siloxanols is published in ACS Omega!
Four of our accomplished undergraduates presented their research at the Undergraduate Research, Scholarship, and Creative Activities Conference! (Right to left: Adon Kwong, Mira Milic, Emma Tribble, Dr. Annaliese Franz, and Karina Targos)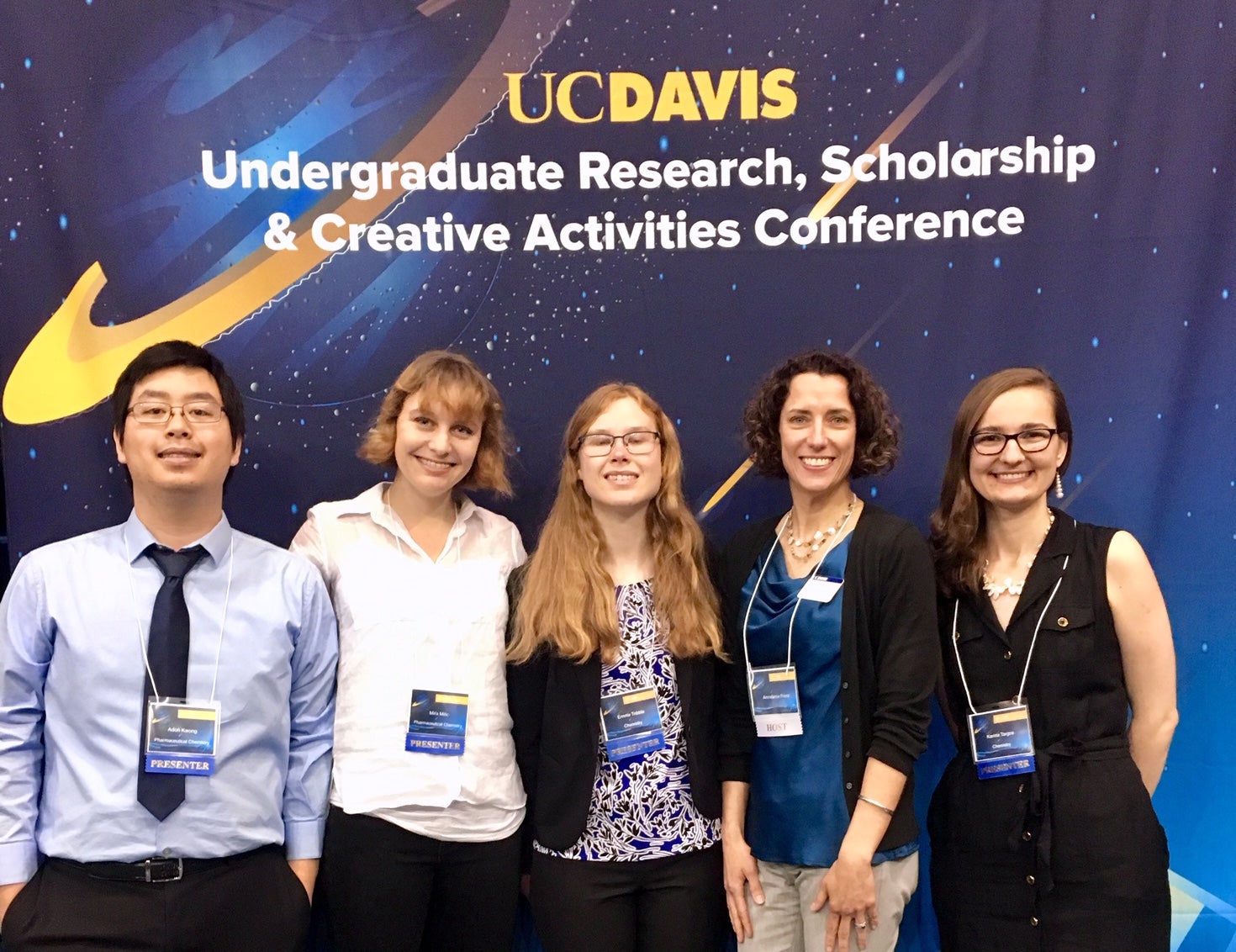 Undergraduate presenters: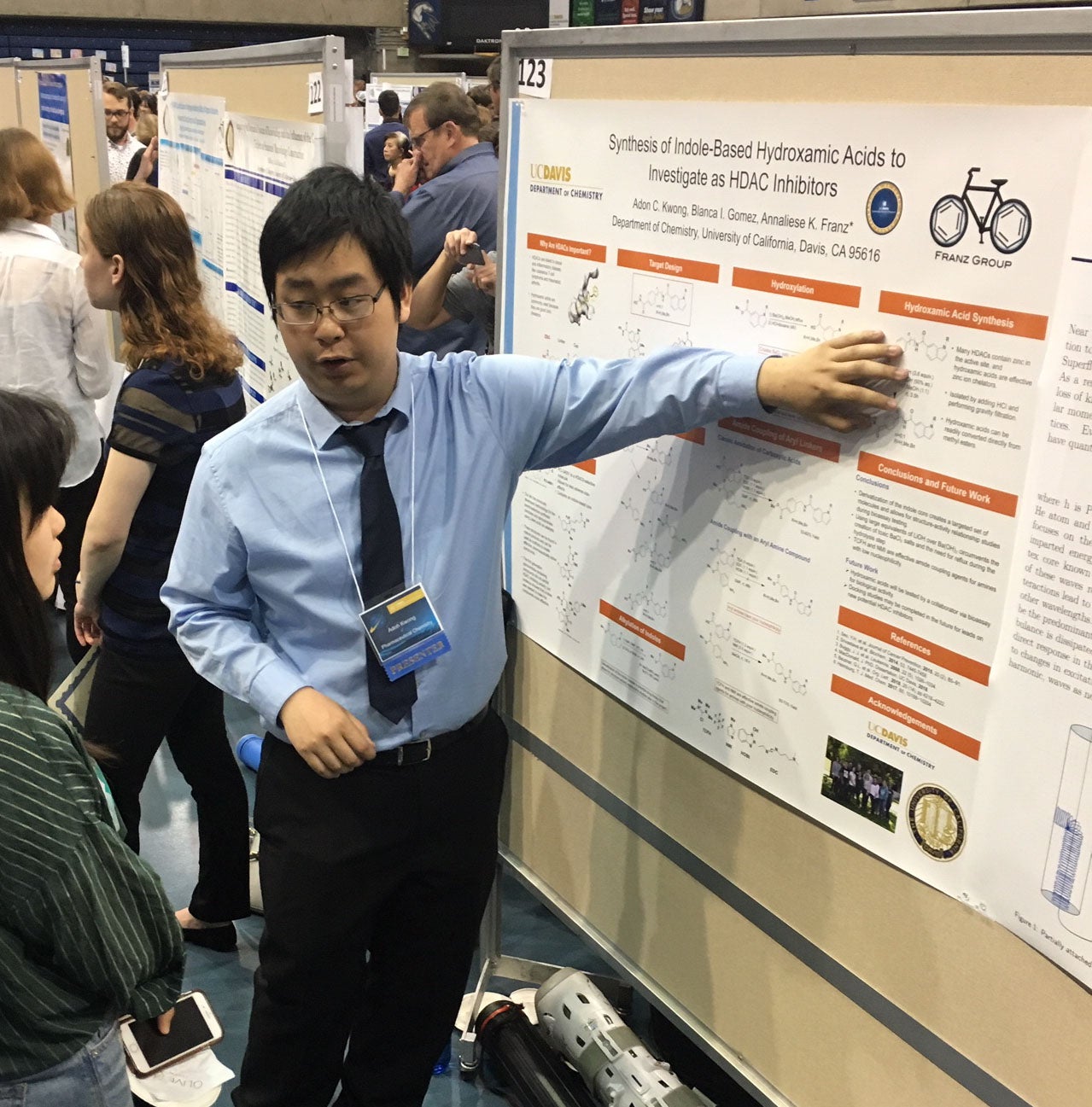 Adon Kwong presented his research on the synthesis of indole-based hydroxamic acids to investigate them as HOAC inhibitors.
Teresa Tang presented her research on both photochemical methods for building organic solar cells and on her quantitative study of halogen bonding for organocatalysts using NMR spectroscopy.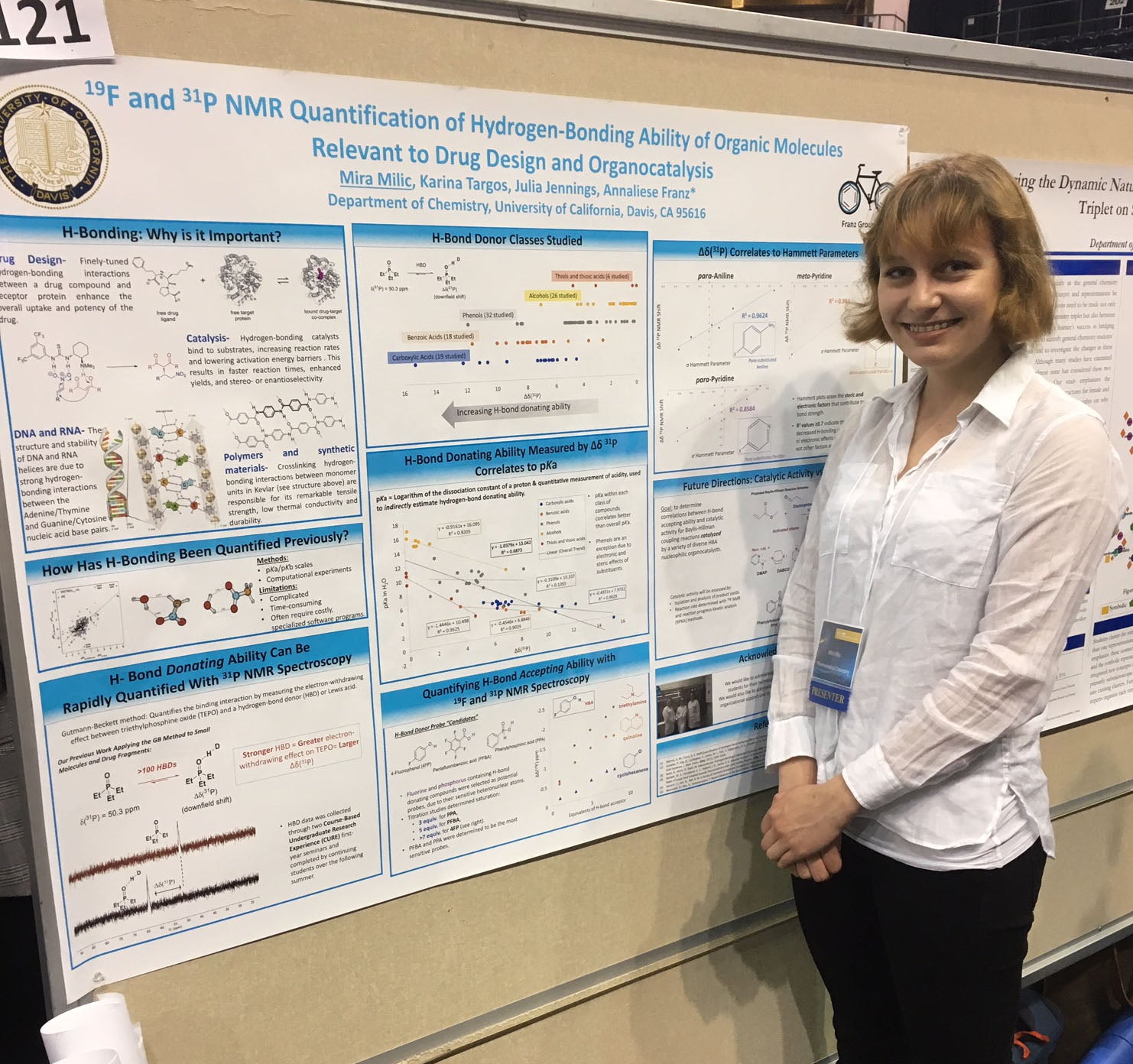 Mira Milic presented her research on fluorine-19 and phosphorus-31 NMR quantification of hydrogen-bonding ability of organic molecules relevant to drug design and organocatalysis.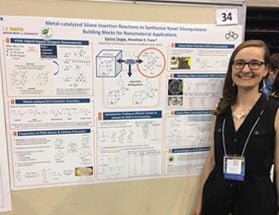 Karina Targos presented her research on metal-catalyzed silane insertion reactions to synthesize novel silsequioxane building blocks for nanomaterial applications.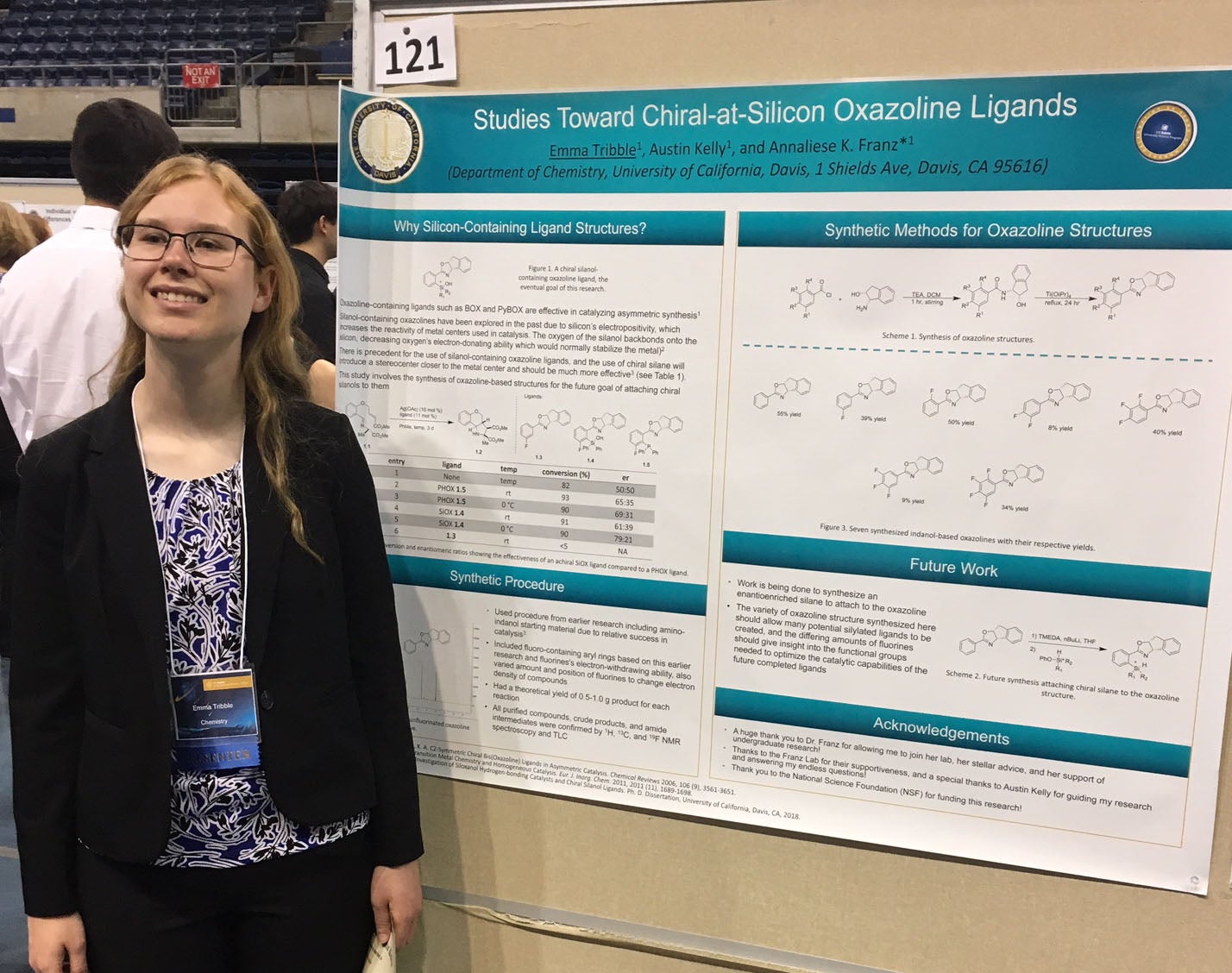 Emma Tribble presented her research on her studies toward chiral-at-silicon oxazoline ligands.
January 2019
Kayla's paper detailing the NMR quantification of hydrogen-bond-activating effects for organocatalysts is published in The Journal of Organic Chemistry as a feature article with cover art!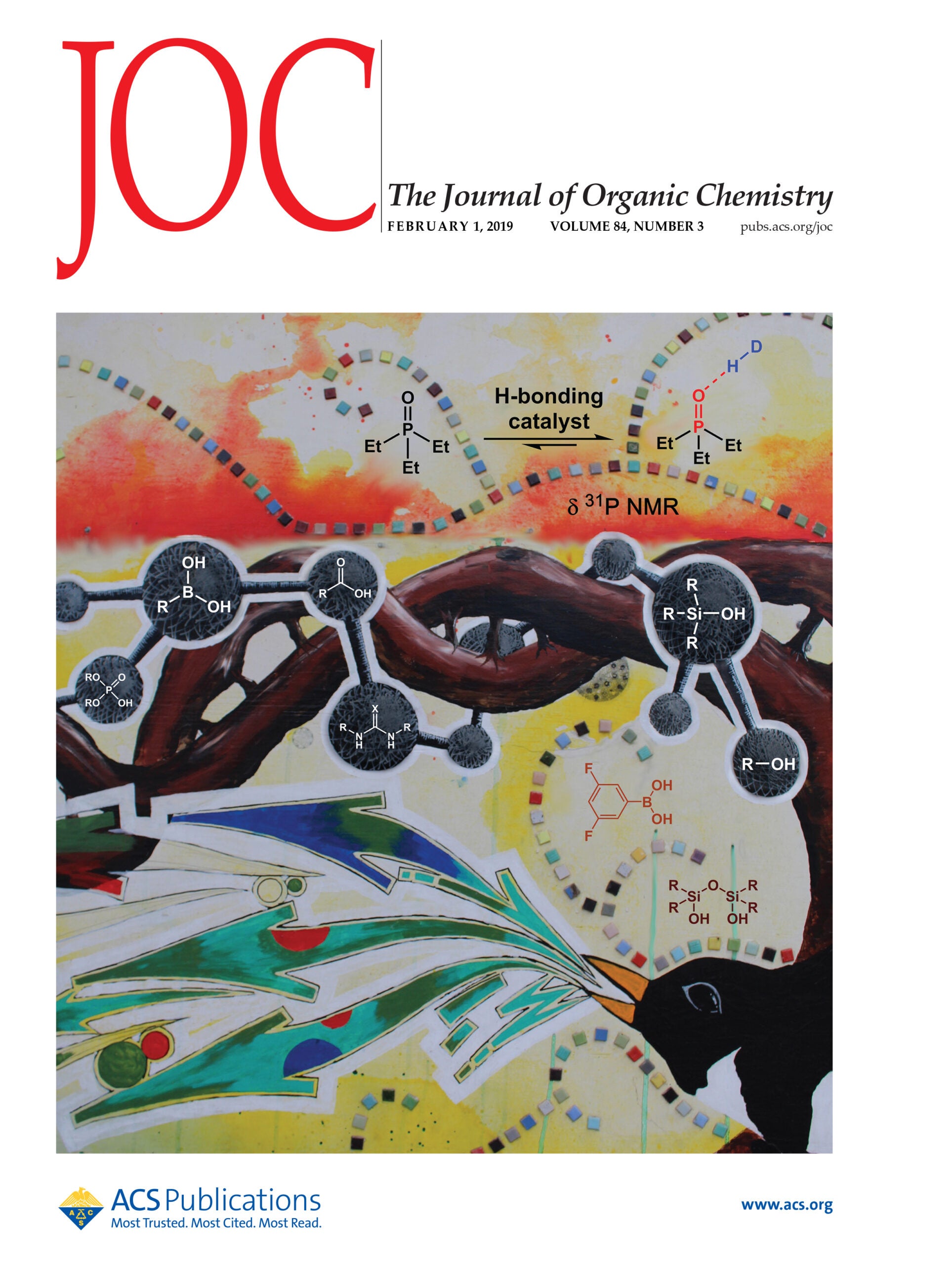 Brittany's paper detailing EPR evidence for the origin of nonlinear effects in an enantioselective Cu(II)-catalyzed spiroannulation is published in ACS Catalysis!
Welcome to the lab Yun-Pu Chang and Linnea Dolph!